Skip below to #1 for the step-by-step instructions!
Private nameservers are used mainly for their branding benefits, not necessarily technical ones. Anyone can do a nameserver lookup on your domain, so without private nameservers it will display the (unbranded) default selection.
Once your private nameservers are registered and active, when someone does a nameserver lookup on your domain they will see your custom selection. E.g. "ns1.yourdomainhere.ca" or "ns2.yourdomainhere.ca". In the case of reseller accounts, your clients can also use your private nameservers instead of our default.
At CanHost, we provide a convenient interface for you to send in the request for private nameservers. The Registration Authority (RA) responsible for registering your domain will be asked to approve your private nameserver request. An example RA would be CIRA for a .ca domain.
There will be two fields, one to specify your desired nameserver name, and the other is to specify its corresponding IP address. You will provide your own nameserver (on a VPS, for example) to link with your new nameservers. We offer our default nameservers primarily, but also encourage registering private nameservers if they are helpful to you.
After assigning new nameservers, it will take 24 to 48 hours for your changes to propagate (update everywhere). Once this has taken effect, your new DNS server (nameserver) has control over the DNS records for the domains that you set up to use your custom nameserver addresses.
If you need assistance setting up private nameservers, please submit a support ticket and include which domain you are using and the IP address to use for your nameservers, and we will be happy to help you get them up and running.
1.      Login to the Client Area of your canhost.ca profile. Now you will click on the button at the top called 'Domains'. This allows you to manage specific domains.

2.      Click on the red wrench on the right to manage the specific domain that you are setting up private nameservers for.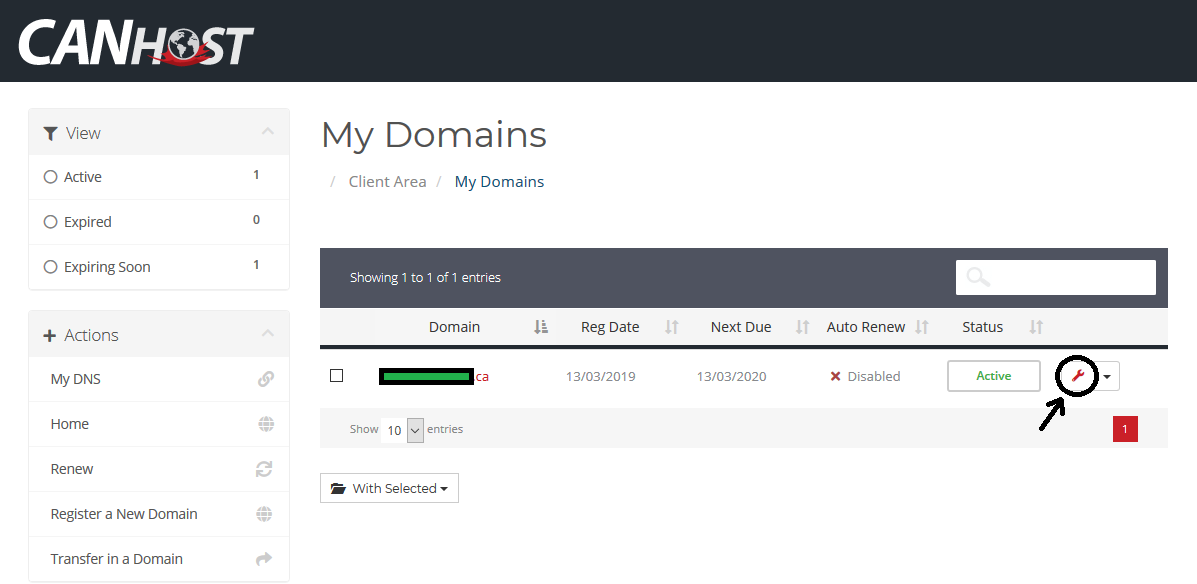 3.      Now that we are managing your domain, navigate to the 'Private Nameservers' list item on the left, within the 'Manage' section.